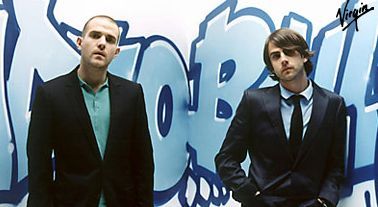 Audio Bullys, a duo very often compared to The Streets, mainly because of the similar style and accent of london street music in their rhymes. in truth the only thing they have in similar is the style in vocal presentation; content wise, they're two completely different group. Audio Bullys delivers a smoother approach by using actual singing and more concise lyrics which came out to be more poetic, often about life and relationships, and sometimes fun and fame. musically, they have years of experience in production and DJing before their debut. attitude of live performers mixed with the comfort of bedroom DJs, breakbeat meets techno, they almost forbid the use of live instrument in their music. while their music dwells fine in front of an audience, they're not terribly dance heavy songs and just as brilliant in your bedroom.
Compared to their debut, they've ditched the childish effort in producing a rhyme, which seemed like all they did was shouted and tried to be cool without realising they were performing, which made it where it was good it was really good, but where it was bad it was like your nipples are being twisted (badly, in case you're into it). this time, they've gotten so much better. now, where it was bad it's tolerable, but where it was good it was like being rimmed by a guy who knows what he's doing.


here's a few recommended tracks from their latest album: Generation
Audio Bullys - Made Like That (feat. Roots Manuva) 4:09 (6.62 mb)
Audio Bullys and Roots Manuva (a british hip-hop artist that's on the verge of trip-hop) produced this larger than life, head rocking hip-hop track.

Audio Bullys - Struck by the Sound 5:06 (8.12 mb)
one of the few songs on the album that includes an apparent use of live instruments. a lonely mood crowds the song with its blues swing vibe.

Audio Bullys - Rock Till I'm Rollin' 3:36 (5.71 mb)
a heavy influence of electronica style from artists like Fatboy Slim and The Prodigy is reeking from this grudgey alt dance track.


i double checked the files, if they don't play the full track, or it's distorted, press Ctrl+F5, or download the tracks to your harddrive by right clicking the links if you don't feel like streaming.

anyway, a note before i finish:
sorry for not making a sound for so long, i was very flattered when one day i was updating my userinfo and found out i was made maintainer of this community. if you noticed/go there i have a community i started called
remix_edit_dub, and that's not exactly lively, so don't hope i can make magic or anyhting. just saying.
anyway, my excuse for not being active is, to be frank, i thought this place was dead, plus there wasn't a lot that caught my attention (that's a lie, but those i noticed belonged to a side of music still too early for me to form an expert opinion). 2005 seems to be a tad boring, actually, more like annoying, with everything on the chart samples old stuff, or artists i like turning to the direction of a popular genre.
also, if you like, i can make some banners for the site. i wanted to put you in my userinfo but you have nothing other than a simple "
killermusic". i'm rather gifted with digital arts, or so i'm told, i'm happy to help at area i'm good at. e-mail me at thisisaspace@gmail.com